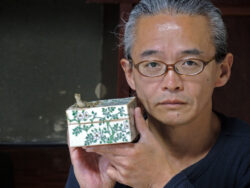 Kensuke Fujiyoshi produces traditional Japanese porcelain tableware, as well as his own special brand of miniature figurines, sculptures and boxes in fine porcelain.  His artwork is based on the inherited Japanese culture of traditional handicrafts known as Hizen-touji, the traditional technique of porcelain making which has been based in the northern part of Kyushu, called 'Old Amari' or Arita', for hundreds of years. His modern take on the figures and boxes produced there over the centuries, uses the same modelling and porcelain making skills, but adds his own special wit and love of the natural world to give us his unique covetable creations. 
His exquisite, porcelain animal boxes have become a much-loved feature in the Sladmore exhibition programme.  The intricately sculpted and painted boxes feature perfectly fitted lids, which when removed, reveal a beautifully decorated interior.
The artist lives and works in Fukuoka Japan and from his studio creates expressive calligraphic drawings and designs rooted in Japanese tradition which translate to his porcelain sculptures. Each one expresses something new and unique. Fujiyoshi uses a wonderfully imaginative combination of creatures and patterns to reflect some of the character or habitat of the animal he is sculpting.