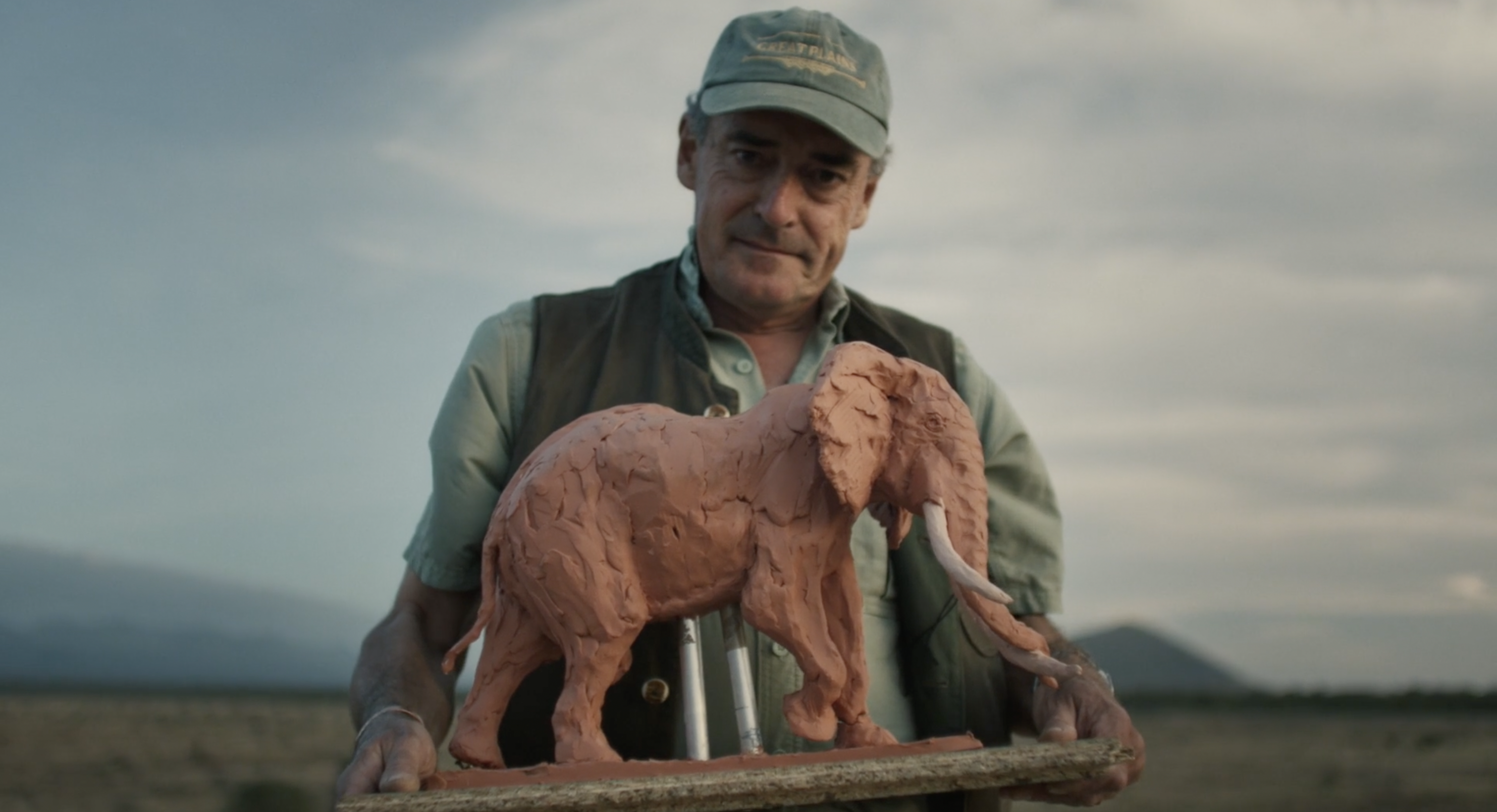 Mark Coreth is an internationally recognized master sculptor of wildlife.  His work reflects his instinctive understanding of the moods of the animals he sculpts. His success as a sculptor is borne of an acute and perceptive eye, coupled with the wealth of experience gained during his early years in Kenya and from his travels ever since to observe animals in their natural habitat.
Mark's working methods include modelling in clay direct from his subjects, live in the field; a practice which vividly translates into the fluid and impressionistic nature of his sculpture, capturing both the spirit of the animal but also that of their environment. Working with extraordinary speed, if the original plasticine or clay fails to speak to him within a couple of hours Mark destroys it and starts again.  He captures violence, speed, tranquillity and pathos with deceptive ease.  His work ranges from small, intimate field-studies to life-size and monumental sculpture.
"I have been lucky enough over the years to travel widely to study wildlife in its environment. My method has always been to record my experiences in my mind's eye. It's really being in the field that you see this movement and life in its extreme. You see those little twists and turns that you'd never see unless you were actually there to take it all in."
Mark Coreth was born in London in 1958 and was immediately dispatched to the family farm in the Kenyan highlands where the Equator ran through the house.  Black and white Colobus monkeys leapt amongst the branches in the trees behind the house where leopard and cheetah also lived.  This idyllic childhood surrounded by exotic Flora and Fauna fostered Mark's early and continuing passion for wildlife and the sculpting of it.
After prep school in Kenya, Mark attended Ampleforth public school in the north of England and on leaving joined The Blues and Royals, serving with the Regiment as a regular officer.  He has spent time in England, Cyprus, Germany, Ireland and the Falkland Islands during the 1982 hostilities.  On his return to England he was commissioned to make a silver sculpture of his regiment's drum horse "Belisarius", for the Warrant Officer's Mess and later a second cast in bronze became the Household Cavalry's wedding present to The Duke and Duchess of York; his first commission, a taste of many more to come. He held his first exhibition at the Sladmore whilst still a serving soldier, and has now shown with the gallery for over 20 years.
Mark has had no formal art school training, his ability is based quite simply on dedication and hard work coupled with an acute and perceptive eye, drawing heavily on experiences gained during his early years in Kenya, and regular sculptural safari's around the world , with his "Backpack Studio ". His sculptures reflect his instinctive understanding of the behaviour and physicalityof the animals he sculpts.  Working with extraordinary speed, if the original plasticine or clay fails to speak to him within a couple of hours Mark destroys it and starts again.  He captures violence, speed, and movement , or even tranquility and pathos with deceptive ease, and is now internationally recognized as the master sculptor of the animal in motion.
As well as his regular one-man exhibitions at Sladmore Contemporary Mark shows regularly in Paris, and New York. His many monumental commissions include a life-size piece of two Cheetahs in a tree for the ruling family in Dubai, a life-size figure of a boatman which sits outside Shakespeare's Globe Theatre, a shoal of rays in the Docklands and a massive 50 piece fountain at the Natural History Museum. His most spectacular commission to date has been an enormous 16 foot high life-size charging elephant; the subject of a half hour documentary on the Discovery Channel. Where the film-makers followed him on safari while he made his initial studies, back to his studio for the creation process and finally to the foundry to see the final casting of the bronze. The finished bronze elephants currently reside in a public collection in Rome and a private collection in Australia.
Following a visit to the Arctic in 2010 he determined to bring home the fragility of the eco-system through his sculpture. He made an large bronze Polar Bear skeleton and encased it in a giant block of ice which he then carved in front of the public. This " ice bear "was then allowed to melt on site while people touched it, revealing the haunting skeleton inside. This project has been recreated in London's Trafalgar Square and at climate change conferences in CopenhagenOttawa and other locations to massive public acclaim, a well received and effective message showing the fragility of the threatened Arctic environment. An award winning short film of the ice bear project, narrated by Ewan McGregor
2015 saw him complete his life size bronze of the much loved Race Horse "Frankel", commissioned by the owner Prince Khalid Abdullah. Her Majesty the Queen unveiled the first one at Royal Ascot in June, with further copies at York Race Course and the Newmarket Racing Museum to follow.
Mark lives and works in deepest Dorset, where the original white plaster model of his life size charging elephant stands guard outside his studio. He is generous with his time and his knowledge regularly giving master classes to aspiring young artists and holding various open days. His donations of sculpture to charity auctions have raised substantial sums for many good causes.
A feature of his exhibitions and appearances at Art Fairs, Mark will create , before the very eyes of the audience, in a surprisingly short time , complete sculptures from start to finish. At the Masterpiece fair in Chelsea in 2015 crowds watched him make Cheetah and Moose and even a line of Leaping Impala, allowing visitors to feel the materials and even attempt create pieces themselves. His virtuoso modeling technique and infectious enthusiasm for his craft making him extraordinarily popular.
Mark continues to stretch the artistic and technical boundaries of sculpture as his search for the dynamic finds amazing life in bronze. 2016 will finally see the publication of his first book, which he has been working on for many years. A revealing look at his life, his working method and his sculptural journeys of artistic discovery around the world.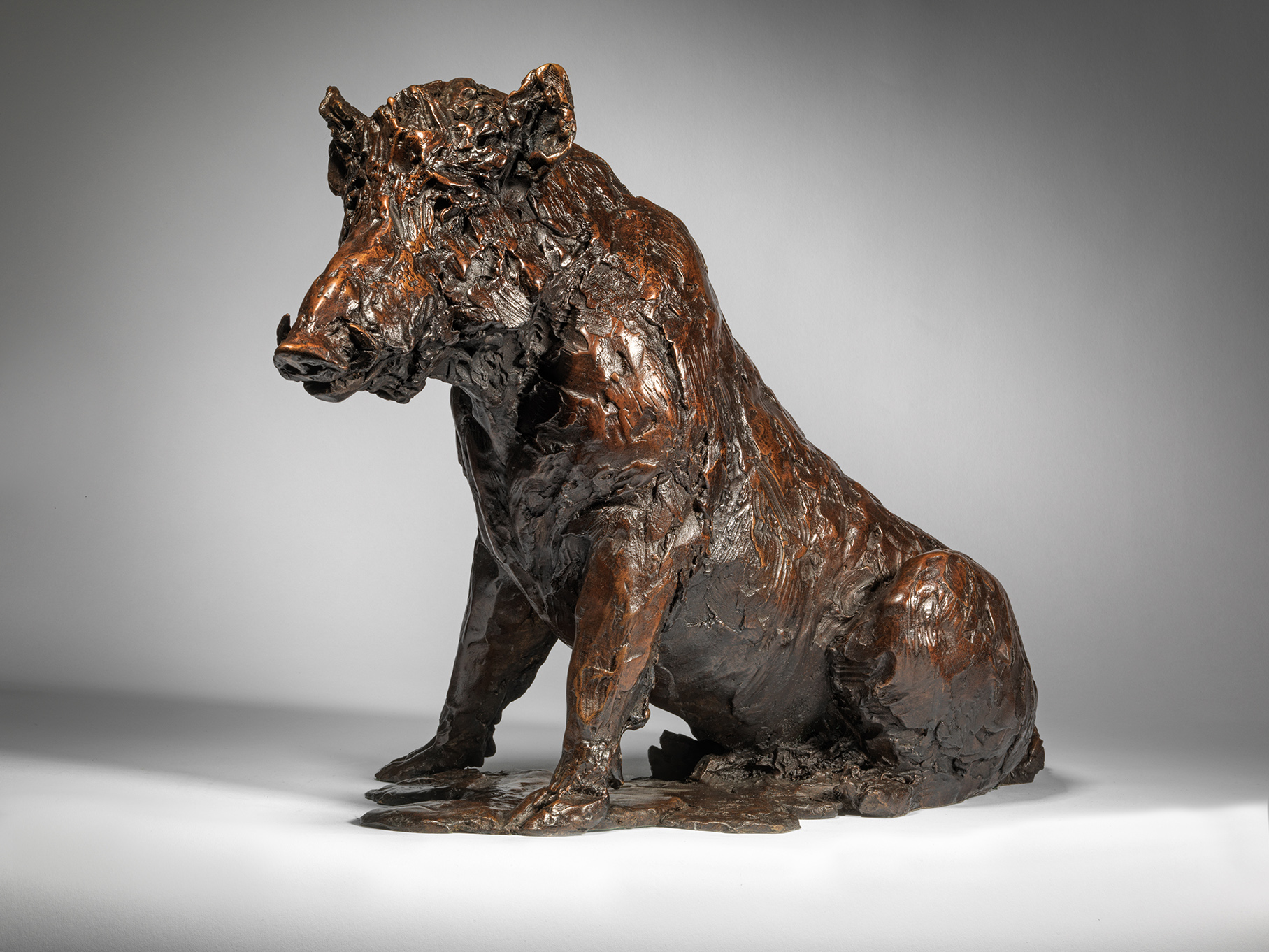 Wild Boar Seated - Large
Mark Coreth
Bronze, edition of 9
Artist Films
Mark Coreth & Lost-wax Casting
Mark Coreth | Reflections on Past Encounters
Mark Coreth | Sculpting the Wild
Mark Coreth | The Ice Bear Project