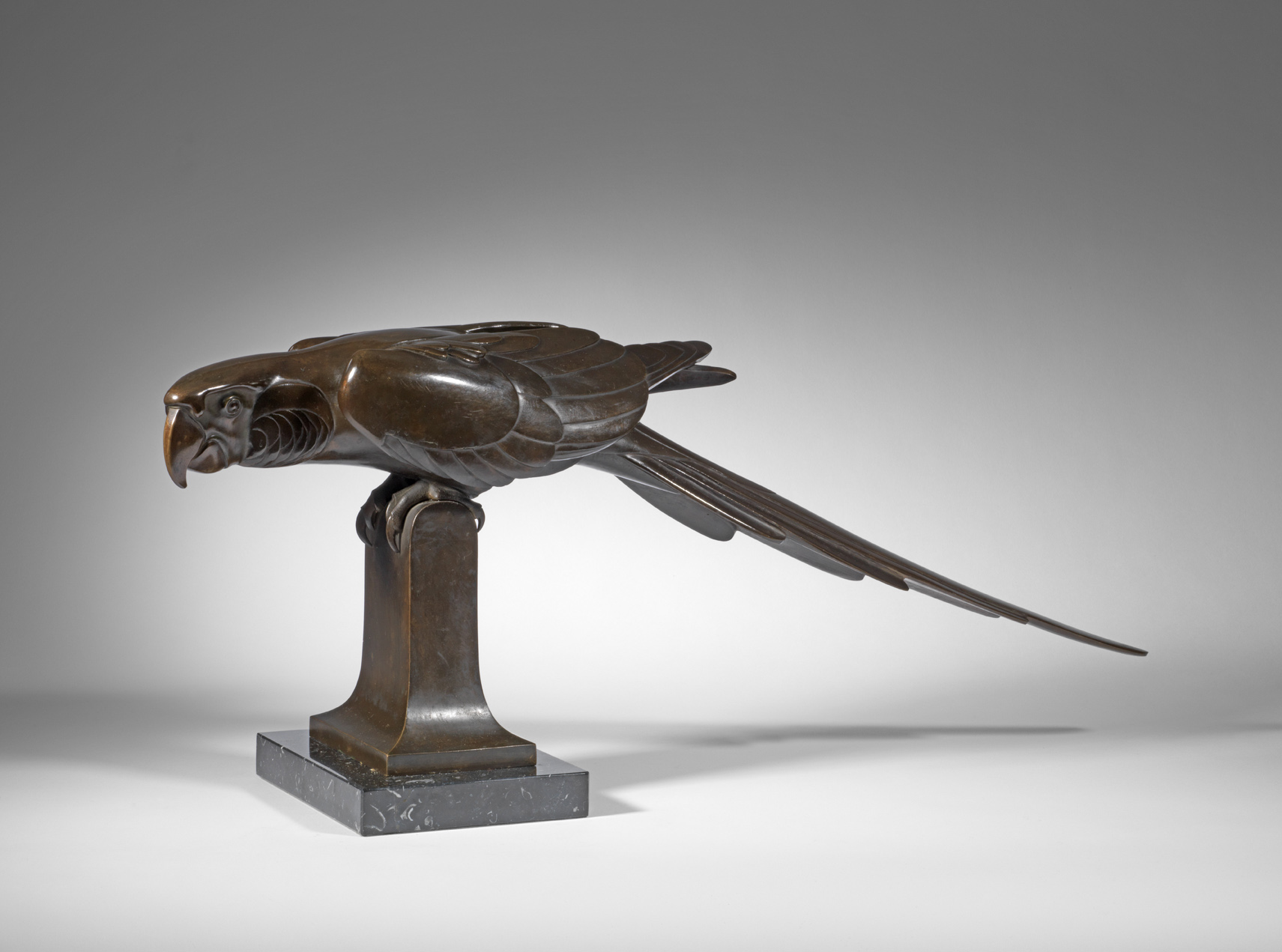 Wilhelm Krieger fits exquisitely into the circle of animal sculptors who are attracting a great deal of attention in today's art market – sculptors such as August Gaul, François Pompon, Rembrandt Bugatti and Max Esser, to name just a few. Dr Martin Schmidt
Much has already been written about animal sculptor Wilhelm Krieger, who lived in Herrsching on the Ammersee for most of his life. Praise for his work generally centres on his close observation of the animals he chose to represent, and on their authentic reproduction true to the characteristics of the species. Attention is also drawn to the way in which he sculpted the animals without attitude of grandeur, thereby finding a degree of abstraction that gives the bronzes an utterly individual quality – a quality that hints at Art Nouveau and Art Deco, yet never loses its affinity to the animal.
A wonderful sculptor, Krieger produced a body of work, especially of birds, apparently independently of artists such as Pompon, Artus and Petersen, yet of
a high standard equal to theirs. His subjects are well captured in his more naturalistic works, and their characters are further enhanced in his more stylised models. His bronzes rarely have a foundry mark but are always of the highest quality.
Wilhelm Krieger was born on the East Frisian Island of Norderney in the North Sea, a costal resort that at the time had less than 4000 permanent inhabitants. Most of his life, however, was spent in Munich and the nearby city of Herrsching am Ammersee. Wilhelm was the son of the painter Eduard Theodor Krieger and was trained as an ornamental painter in Bremen. He left for Munich in 1896 without finishing his apprenticeship. There he enrolled at the Königliche Kunstgewerbeschule, the school for applied arts, but left after one semester. He continued to do applied arts and became a member of the Vereinigte Werkstätten München, an association with a similar approach as the arts and crafts movement in Britain. In 1903 Krieger co-founded the company Zierhut and Krieger in Munich which specialised in the design of objects, jewellery and silverware.
From 1901 onwards Krieger taught himself to sculpt and made himself familiar with bronze casting and the art of patination. Early on, it was animal sculpture, and birds in particular which interested him the most: owls, ducks, jackdaws, cocks, falcons, buzzards, eagles, condors, cranes or marabous populated his studio in mostly life-size sculptures, next to other primarily domestic animals such as cats, dogs, deer and sometimes apes. His oeuvre encompasses around 200 animal sculptures, along with the occasional family portrait. His sculptures were cast in bronze, as well as in porcelain and stoneware by notable companies such as Hutschenreuther. He also carved in limestone or marble.
In 1907 Krieger had a sculpture of rabbits included in an exhibition organised by the Munich Secession – it was the start of his membership of most important group and exhibitions in Berlin, Bremen, Dresden, Düsseldorf and London showed his work in the following years. In 1927 the Bavarian government awarded him the title of honorary professor.
Krieger's contemporaries already praised his sculptures for their pure form and admired his ability to highly stylize the animals whilst still capturing their naturalism. His talent was for producing anatomically accurate accounts of each species without doing mimicry but creating very individual works of art. The director of the Berlin zoo Ludwig Heck in 1920 highlighted Krieger's unusual skill to effectively render plumage while showing very few individual feathers in his even surfaces. Krieger did not charge his sculptures with any symbolic meaning. He did not anthropomorphise them, nor recount anecdotes showing them in relation to a human figure. He was not interested in adding anything to his models – neither meaning, nor accessories. This was a deliberate break from the 19th century French Animaliers' work, which Krieger will have been able to see in Munich. Krieger did not study any predecessors in art, he studied the animals. The art critic Fritz von Ostini wrote in a text on Krieger in 1924 that "art essentially consists in the omission of the dispensable" which was particularly true when looking at Animalier sculptures such as Krieger's. Krieger concentrated on the animals themselves and their multitude of forms. Through stylisation and simplification he created smooth, sleek, sometimes austere, yet at once very vivid sculptures.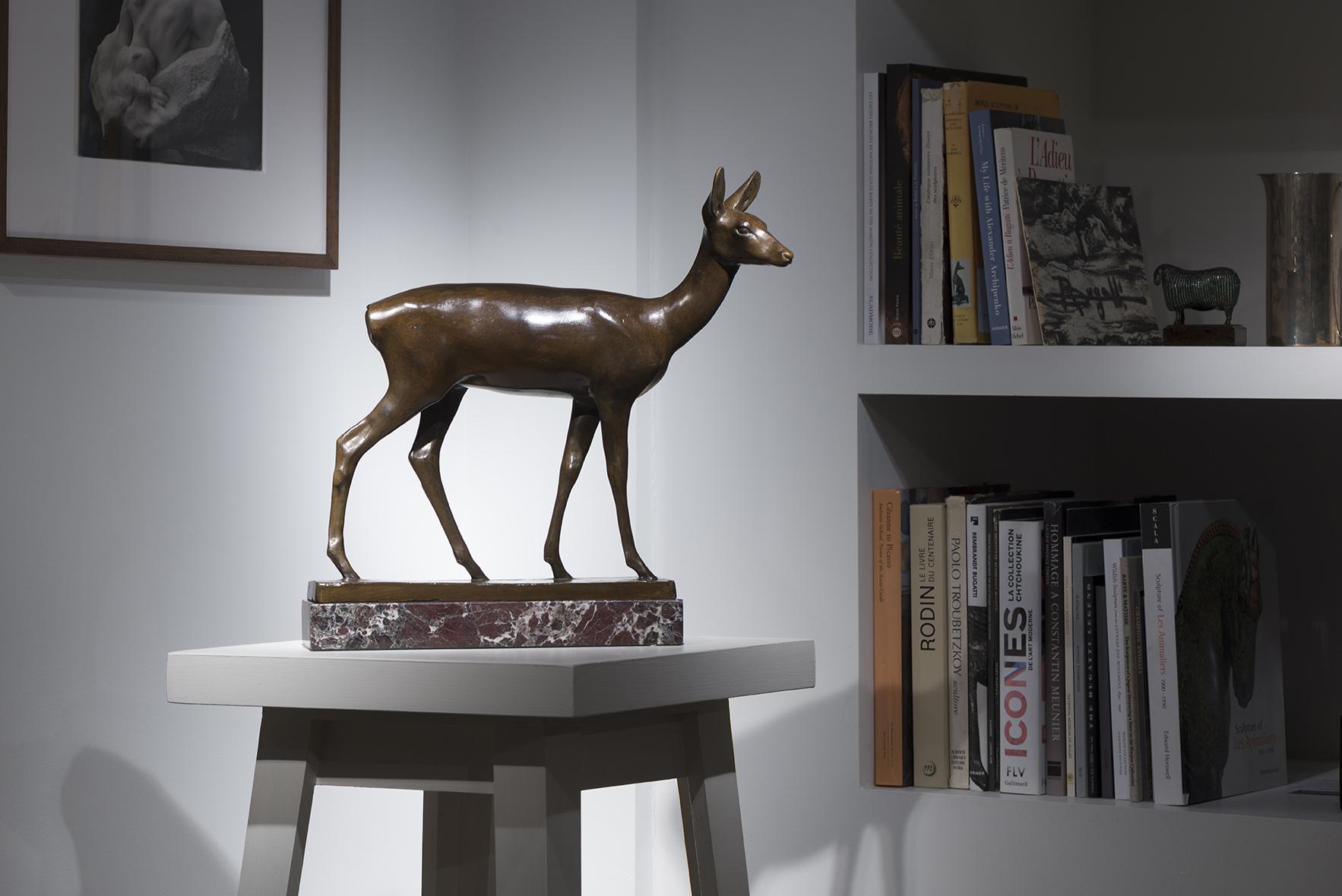 Fawn, Ears Back, c. 1920
Wilhelm Krieger
A fine quality, lifetime, twentieth century bronze model of a 'Fawn with its ears forward' by Wilhem Krieger (German, 1877-1945). This bronze was produced using […]