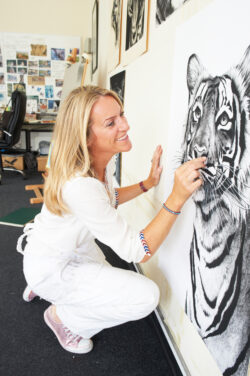 Rose Corcoran (b. 1972) studied History of Art at Edinburgh University (1991-4) and Fine Art at City and Guilds, London (1995-8). She completed her Masters degree at the Royal College of Art in 2000.
A period living in northern India in 1990 was formative in her artistic development, and with many visits since, she has established a close relationship with the sub-continent.  She first saw tigers in the wild at Kahna (the setting of Kipling's 'Jungle Book'), and she was overwhelmed by the contrast with her experience of only seeing tigers in captivity, where she had previously studied them.
She became fascinated by the paradoxical power of big cats – their fearsome strength, yet their affectionate and nurturing nature to their young.  The endangered status of these awesome animals became a passionate concern as she met the renowned animal campaigner Valmik Thapar, and through him visited Ranthambore Reserve, one of the last strongholds of the wild tiger.
Rosie believes in making art for a purpose and intends her work to highlight the magnificence of the nature she depicts, but also its nearness to extinction through the actions of human beings.  As much as depicting individual animals, she aspires to evoke the essence and vitality of the species in each image, with her own talent and passion for her chosen subject matter.
Like her great predecessors in the depiction of animals, such as Rembrandt Bugatti, Antoine-Louis Barye or George Stubbs, she seeks to convey movement and the potential for movement, as well as the 'fearful symmetry' of her beasts.  While she has a deep knowledge of the traditional techniques of drawing and printmaking, she marries these to a bold use of modern technology.  She sometimes deploys video footage of animals in action, freeze-framing to analyse their structure and movement and she uses photographic techniques to construct complex, compound images of animals in unusual settings.
Corcoran is an artist both deeply traditional and clearly contemporary. Her work is dedicated to a secure future for her animal subjects in their natural habitat, which also assures her own future in the art world.
In 2021 Rose launched her book 'Rose Corcoran's Alphabet of Animals' bringing together a collection of 26 of her signature charcoal drawings of endangered animals with personally selected quotations and poems to highlight the threat that human populations pose to the survival of these creatures and their habitats.
She has built up a dedicated following for her incredible drawings, some are massively over scale, even larger than life-size studies of the beasts are not unusual. She has exhibited with the Sladmore in London with solo shows in 2018 and 2021 and at many art fairs in the UK and internationally, as well as having solo exhibitions in Paris, New York and Santa Fe in recent years.