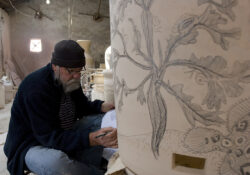 Roger Law used to be famous.  He was the artist and energy behind the topical satirical television series Spitting Image.  The success of the UK programme, which pilloried the rich and famous, ironically made him rich and famous.
In the previous decades, from the early 1960s, Law had worked across the media drawing, making prints and modelling caricatures for publications such as The New York Times, the Observer, the London Sunday Times, and Der Spiegel.  He teamed up with Peter Fluck (Luck & Flaw) and it became a natural progression for them to make their static caricatures into puppets for television.  The first series of Spitting Image went out in 1984 and for the next thirteen years Law was kept busy meeting impossible deadlines.
When the show closed in 1997 he did what some people thought was the only decent thing he could do; possibly ever had done.  He transported himself to Australia.  Although he had lost his appetite for modelling caricatures he retained a fascination with the surreal and grotesque. Australia is abundent in both.
Roger travelled extensively in Australia, from Arnhem Land in the north to the Coorong in the south.  He filled sketch books with drawings and paintings of Australia's strange flora and fauna – Weedy Sea Dragons, flouncing Emus and nervy Bilbies.  After years of satirising the insanity of western politics and contemporary life he felt he was reconnecting with the natural world once again.  Law's formative years were spent in the Norfolk Fens in the 1940s and 50s where much of the flora and fauna of that era have vanished.
No one can live in Oz for long without becoming aware of China.  It only took Law four weeks before he signed up for a tour of China's potteries and ceramic museums.  On that trip he clocked the ceramic skills of Jingdezhen, China's Porcelain City.  Eventually he took all his Australian sketch books to Jingdezhen and tentatively began working in the city's workshops.  Gradually Law's Aussie creatures – mudskippers, the platypus, puffer fish and all manner of flotsam and jetsum exotica –  began to appear on porcelain pots and platters.
For the past decade Roger Law has worked with Mr Wu Song Ming, a skilled carver of porcelain.  They have no common language except drawing.  Mr Wu has never seen the sea nor been to Australia.  The language they have developed together speaks loudly from the ceramics they make – shrill sea birds, fornicating frogs and  Cheerleader Crabs.
Roger Law is living back on the North Norfolk coast these days and has exchanged Australian Mud Crabs and Brolga Birds for Cromer crabs and winking owls.
Sladmore Contemporary is delighted to be exhibiting Law's exotic menagerie of drawings and ceramics, whether the creatures depicted hail from North Norfolk or the Northern Territories of Australia.  Law's fine porcelain is exclusive to the Sladmore Gallery.