Nick Bibby |
British, born 1960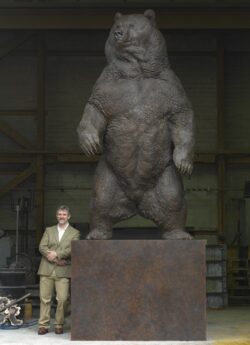 A bright and artistic child, it was clear from an early age that Nick Bibby was destined for a career in art.
Nick Bibby's sculpture is imbued with such life and character. His affection for his chosen subjects shines out for all to see. It is truly rare to find an artist with such a talent for modelling. The 'Bibby' sculptural style, whilst very definitely figurative (to Nick's eye, all his subjects are beautiful and he strives to recreate that beauty) he is quite unique in his approach. Fascinated by both form and detail he models with a fluidity and energy that few can equal, simultaneously and effortlessly combining that energy with a jewel-like attention to detail, resulting in sculptures that look as though they live and breathe. Bibby's sculptures are both beautiful works of art and loving portraits, be they bird, animal, or human. With subjects ranging from small to monumental, Bibby's work is owned and admired by an ever growing number of collectors, including royalty, politicians and business leaders, diplomats, famous authors, artists, actors and musicians.
Largely self taught; Nick Bibby has always had an abiding love of nature and the natural world and this, in combination with his interests in anatomy, zoology and palaeontology, are what drive his work. Using copious reference, either from life or literature, he first constructs a supporting armature of steel and aluminium that often closely matches the skeleton of his subject. He does not usually make working drawings. Having researched his subject, Bibby builds up a fluid mental image of the finished sculpture; a three dimensional image that does not benefit from being translated into two dimensional drawings, only to be translated back into 3 dimensions in the finished sculpture. As clay or wax is added to the supporting armature, building up the sculpture, he makes constant minor adjustments to composition, pose and form, always striving for the perfect aesthetic balance. The variety of the ever expanding 'Bibby' sculpture collection; birds, animals, and human, is driven by Nick's constant search for knowledge and new challenges.
Nick exhibits work regularly at Sladmore Contemporary, and in addition, his work has been shown at The Royal Academy of Art, London, the Pinacoteca Giovanni e Marella Agnelli, Turin, Leigh Yawkey Woodson Museum of Art, Wisconsin, Sigurjon Olafsson Museum, Reykjavik and the Society of Portrait Sculptors, London, to name but a few.
In 1999 Nick Bibby was asked to sculpt life-size, scientifically accurate, bronzes of a dozen extinct birds and animals from the islands of Mauritius, Rodrigues and Réunion, including the most famous extinction of all – the Dodo. One of Nick's most enjoyable commissions,  "Bones to Bronze" was sculpted in close partnership with naturalists and palaeontologists from the region. The sculptures were created to raise awareness of the species lost and the species we continue to lose, whilst also raising funds toward continued conservation work on the islands through their sale. A complete collection is on permanent exhibition on the island of Ile aux Aigrettes, just off the coast of Mauritius, and a 'Bibby' Dodo is on permanent exhibition at the Ashmolean Museum, in Oxford. This Dodo has even had a children's book written about him!
Nick Bibby's wildlife subjects continue to be the mainstay of his collection, but in recent years his sculptures of "British Champion Animals", inspired by the works of the same name, sculpted by Herbert Haseltine eighty years earlier, has brought further recognition and praise. Leading to a commission from the prestigious Ivy League University, Brown, to sculpt a monumental, life-size, Kodiak Brown Bear (the university's mascot) to stand outside their new Nelson Fitness Centre, in Providence, Rhode Island. Called "Indomitable", the fifteen-foot bear was installed late in 2013 when he and Nick were given a very warm and enthusiastic welcome!
More recently, Bibby has fulfilled commissions, for a small, but very characterful Indian Rhino, also to go to Rhode Island, and a nearly seven-foot heroic torso study of the Greek god, Apollo, for a private individual in the UK. Currently working on more wildlife pieces, Nick's next challenge is something different again… and is already in the pipeline!
Nick Bibby lives and sculpts in Devon, a county he loves, and one which provides constant inspiration, from it's rolling green fields, it's many rivers and woodlands, to it's stunning coastline and high moors.