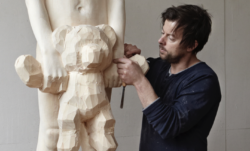 The ability to give expression to the human form, to transmit and translate its language is a talent in which the sculptor Mario Dilitz is acknowledged to be a master. He combines traditional sculptural knowledge and technical skills with a contemporary viewpoint and thereby manages to create sculptures of great intensity and immediacy with their own powerful and unusual presence.
"My work does polarize opinion. There is a contrast between the aesthetic beauty of my sculptures and the content of the issues raised, where I like to encourage a profound confrontation with the vagaries of human existence "
On the one hand Mario manifests the contradictions occurring in human nature, on the other hand he knows to unite them in his work. In his many sculptures using an African boy or girl as his subject the pieces have a still, calm and peaceful exterior but their neutral gaze suggests to some an inner anxiety or restlessness. Mario prefers not to explain too much and to leave the viewer to feel the powerful presence of his works and draw their own conclusions and enjoyment from his creations.
Even his choice of material reveals these contradictions. His sculptures, many of them life-sized, are created out of high quality laminated wood. After a process of destruction, as the wood is cut into lengths, and then construction, as the pieces are glued together, the wood has reached a new form of stability, which wouldn't have been possible in its natural condition. This whole process is made visible by the lines of red or black glue in the laminated wood. Signalling the new strength and permanence of the medium, as well as being an original Dilitz trademark. Uniquely pleasing in it's aesthetic.
His bronze sculptures, originally sculpted in clay by Mario, have the same commanding presence. The bronzes are often coloured in an unusual unpolished patina, which is original and completely beautiful, perfectly attuned to the subject.
Mario Dilitz was born 1973 in Innsbruck, Austria now works and lives in Axams near Innsbruck and Munich.