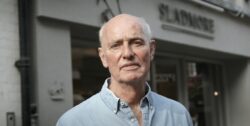 Hawkes is a self-taught artist who has worked predominantly throughout his life with wood. A renowned modern furniture designer and maker, he has been chosen to exhibit internationally, from New York to Sydney. After a brief and uninspiring time at Art School he joined the communal workshops 4011⁄2 in Vauxhall, London.
Setting up his own studio he has created work in his signature style for many private and corporate clients. Most memorable were Lord Bath's millennium bed and library, the Epsom Derby Trophy, a stand in Westminster Palace for Her Majesty Queen Elizabeth II, and a writing desk for Monte Carlo's Governor General.
His monumental sculptures have been installed in La Défense, Paris and Covent Garden, London, and are held in many important private collections.
His new monumental work entitled 'What's the Point' proposed for Masterpiece Sculpture has since been delivered to a private garden in London belonging to a well-known collector. The beginning of 2023 sees Hawkes developing his sculpture, 'Sphelix' on a monumental scale, which he says is "The perfect shape, organic in curve and industrial in form, 'Sphelix' has been an obsession for half my lifetime".
Hawkes's solo exhibition 'Chasing the Line' was held at Sladmore in 2020.