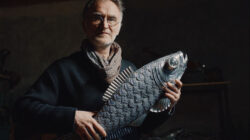 Martinet was bornin Le Mans in 1963. He developed an early interest in insects thanks to a primary school teacher who was an entomologist.  He went on to study art, specifically graphic design, for five years in Paris before starting to work as a freelance graphic designer. Gradually, sculpting became Edouard's focus and in 1990 he started making insects. 
Martinet has become the art world's virtuoso insectophile, transforming bits and pieces of cast-off junk culled from flea markets and car boot sales into exquisitely executed insect, fish and animal forms. He has a huge store of material for fabricating his sculptures; he says "I discover what the sculpture is becoming gradually, and sometimes I change pieces. But there can be pieces I really need, and if they're not in my objects in my studio I have to wait to find them".
What sets Martinet's work apart is the brilliant formal clarity of his sculptures, and their extraordinary elegance of articulation. His degree of virtuosity is unique: he does not solder or weld parts. His sculptures are screwed together. This gives his forms an extra level of visual richness – but not in a way that merely conveys the dry precision of, say, a watchmaker. There is an X-Factor here, a graceful wit, a re-imagining of the obvious in which a beautifully finished object glows not with perfection, but with character, with new life. 
There is a long and distinguished waiting list for every piece.