Bouraine is known for his works on the art deco style, however, this work reveals a broader and more varied oeuvre setting him apart from any style or movement.
Although Bouraine was considered one of the most representative artists of Art Deco movement, there is no available information on his initial training as a sculptor until the First World War, when he was interned in Switzerland. He then enrolled at the Ecole des Beaux-Arts in Geneva where he met Max Le Verrier and Pierre Le Faguays, with whom he forged lifelong friendships. At the end of the war, he completed 'Le Souvenir', a monument offered to the city of Geneva, in memory and acknowledgement of its hospitality to French internees.
He also participated in the organisation of the first international exhibition of modern art in Geneva, from December 26, 1920, to January 14, 1921, in which he took part. France was represented by Bourdelle and among the exhibitors was Joseph Bernard who exhibited 'Young girl with a jug'. The Journal de Genève (January 9, 1921) describes Marcel Bouraine as a 'robust stonecutter' and underlines that, as well as his works in stone, he displayed small statuettes.
On his return to France, he was to become one of the principal art deco sculptors of the period. He exhibited at the Salon des Tuileries from 1922. The following year, he joined the Société des Artistes Français. He then regularly took part in the various Parisian Salons including the 1925 Exposition de Paris, where he showed expressive bas-reliefs of three and a half meters high, created together with Pierre Le Faguays for the Pavillon de la Ville de Paris. In 1937, he also carried out two important and imposing commissions for the Exposition Internationale de Paris: a polychrome cement bas-relief for a fountain in the Centre des Métiers d'Art and a gigantic earthenware statue representing ceramics for the Sèvres Pavillon de Sèvres.
The sculptor Marcel-Andre Bouraine (1886-1948) was born in Pontoise, France. He studied sculpture under the direction of Joseph-Alexandre Falguière. Captured by the Germans during the First World War, he was interned in Switzerland.
On his return to Paris, he exhibited at the Salon des Tuileries in 1922. In the mid 1920's he was to become one of the principal art deco sculptors of the period. Bouraine was a member of the Societe des artistes francaises and participated in the Salon d'Automne. In 1928 he collaborated with the renowned ceramicist Gabriel Argy-Rousseau who commissioned several sculptures from him. He also exhibited two monumental sculptures at the Universal Exhibition of 1937 in Paris.
His works are included in many major Museum and private collections throughout the world.
Bouraine also produced designs for glass statues which were produced by Argy-Rousseau during the 1930s. Best known for his chryselephantine figures he also made full bronzes and figural groups, many with a classical theme – like Diana the Huntress or his famous Amazonian Diana with shield and spear.
Bouraine used a pseudonym which was Derenne, he may also have used Briand (Brian), as there is a definite connection between the two as can be seen in the hoop dancer by both artists, which appears to be identical.
Marcel Bouraine was a life long friend of Max Le Verrier and Pierre Le Faguays who all studied together at the Beaux Arts in Geneva. Later the Le Verrier foundry was to produce many of the Bouraine statues for him. Bouraine used two pseudonyms which were Derenne and Briand.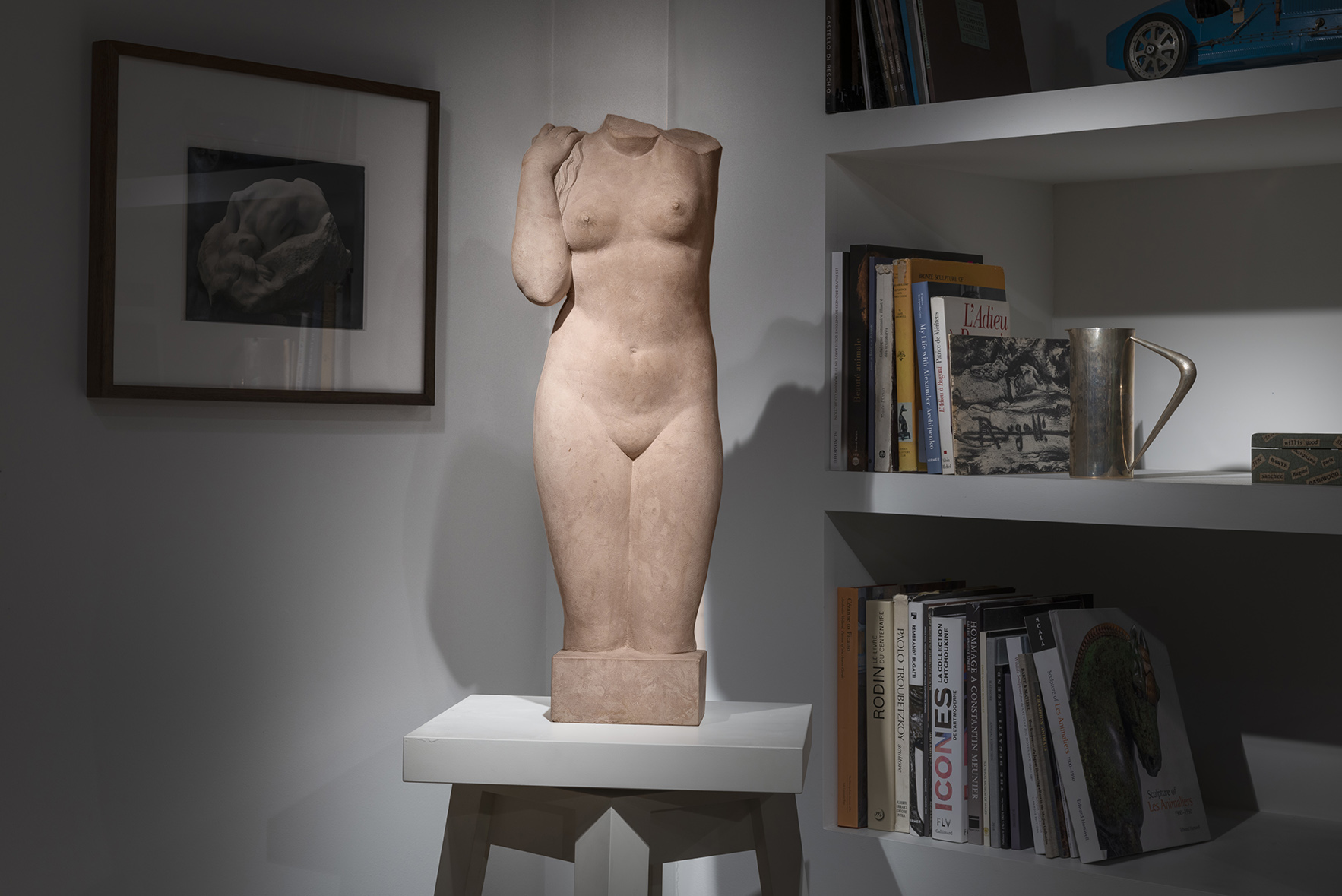 Youth, Pouillenay Stone, c. 1934
Marcel Bouraine
A fine quality, unique, stone carving of a torso entitled 'Youth' by Marcel Bouraine (French, 1886 – 1948). This carving in Pouillenay stone was produced […]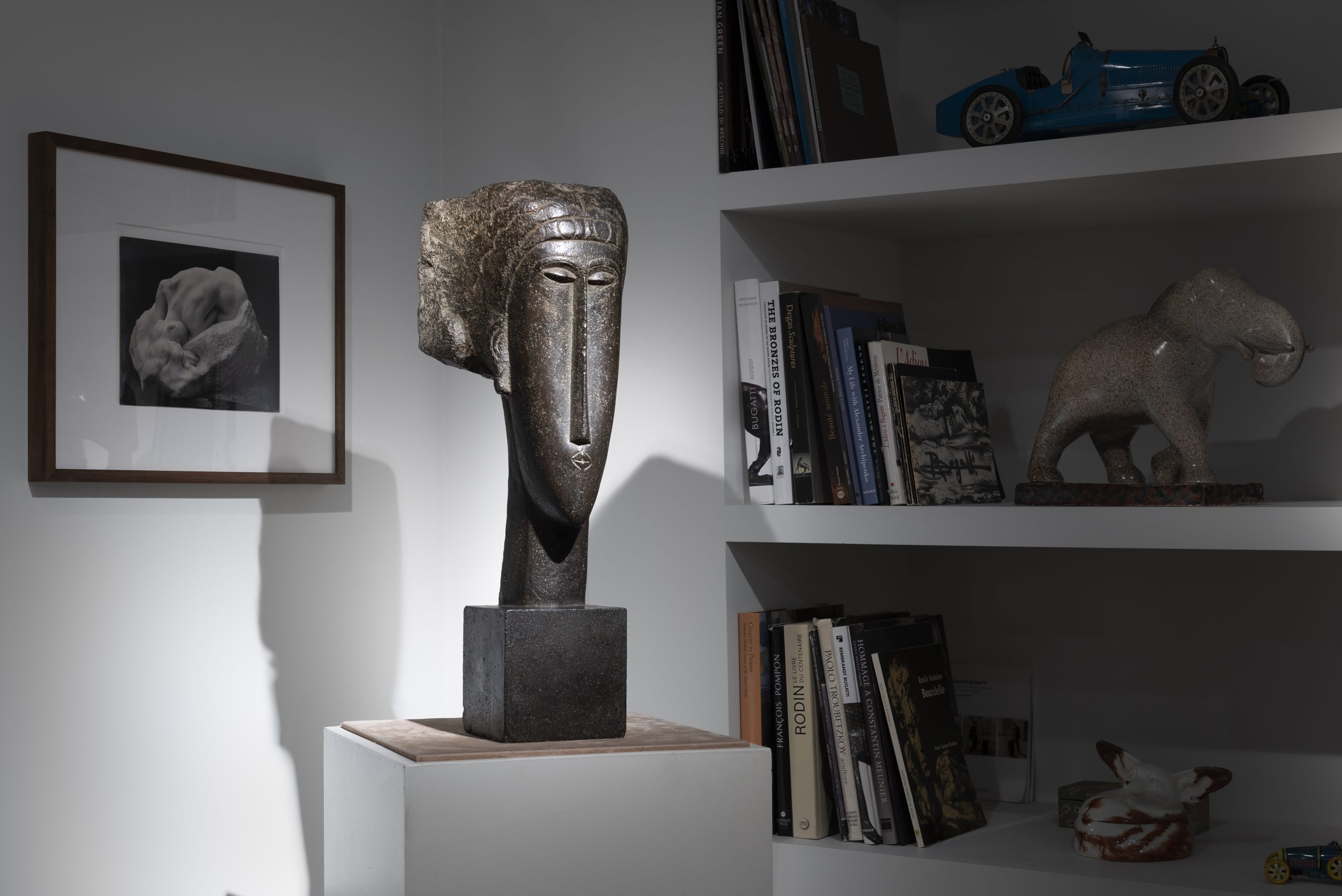 Private: Modern Exhibition, Autumn 2023
13th Oct 2023 - 28th Oct 2023,
This exhibition showcases the diverse range of sculpture, created over a seventy year period which saw unprecedented change. This selection…