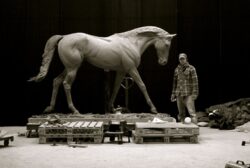 Charlie Langton is one of the most sought-after equine artists of our time. His commitment to the Classical principles of the old masters underscored by a deep understanding of equine anatomy and a love for the horse, renders his work painstakingly accurate and astonishingly true to life.
Major works include his over life-size bronze tribute to four-time Gold Cup Winner Yeats in the parade ring at Ascot Racecourse. The piece was unveiled by Her Majesty The Queen on the opening day of Royal Ascot in 2011 when Charlie was just 26. Langton's monumental bronze mare and foal for Her Majesty The Queen's 90th birthday stands at Newmarket.
He has produced life-size commissions of the greatest racehorses and stallions in the thoroughbred racing world, among which are Giant's Causeway, Sadler's Wells, Galileo, Montjeu, Goldikova, Treve, Justify and Fastnet Rock as well as the Parachute Regiment and Airborne Forces Memorial at the National Memorial Arboretum in Staffordshire. He also collaborated with Asprey to create the silver Derby and Oaks Perpetual trophies for the Epsom festival. Charlie continues to work on life-size commissions of the world's best racehorses.
It is said the outside of a horse is good for the inside of a man, and horsemen the world over will confirm that the outside of a great horse is something very special indeed. It is this feeling that Charlie seeks to capture through his work.