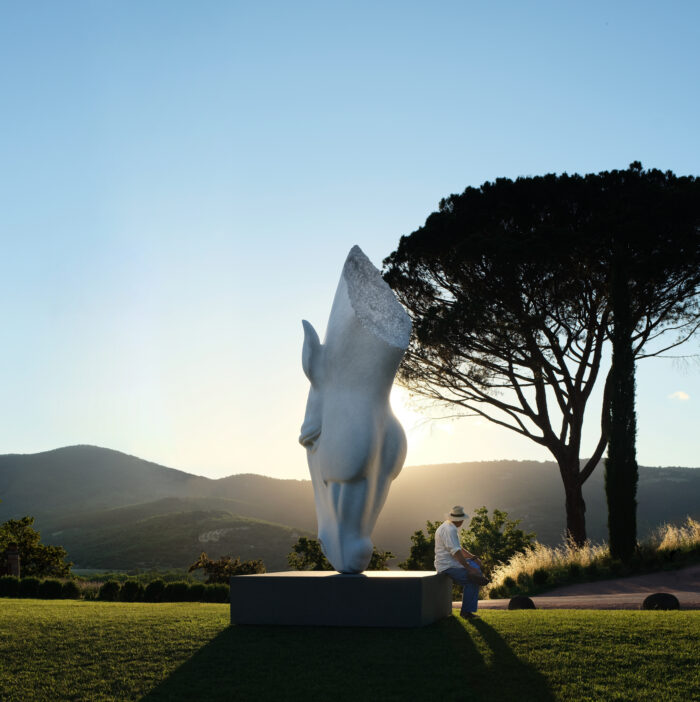 The Sladmore Gallery is delighted to announce the upcoming exhibition 'Carved, Cast and Drawn' by Nic Fiddian Green which is taking place at an in association with the beautiful Reschio Estate, Umbria.
Over the past three years, Nic has been working on a 14ft carving from Carrara marble, titled 'How Still the Night' which will be unveiled at the opening of the exhibition on the 23rd July 2022. This is Fiddian Green's largest hand-carving to date, made in close proximity to the Carrara quarries in Pietrasanta, Italy.
'How Still the Night' will be on show with a selection of other sculpture and drawings at Reschio until 2023. In the same way that Nic's work unites classical expression with contemporary refinement, the ancient estate of Reschio combines its wild Umbrian heritage with effortless Italian style. The works in 'Carved, Cast and Drawn' are at once organic and ambient in the landscape, singing subtlety to both the vibrancy of dawn and the romanticism of dusk.
This exhibition will be running until Spring 2023. Should you wish to visit, please do not hesitate to get in touch.
Photography Philip Vile 2022